Halloween Haunted House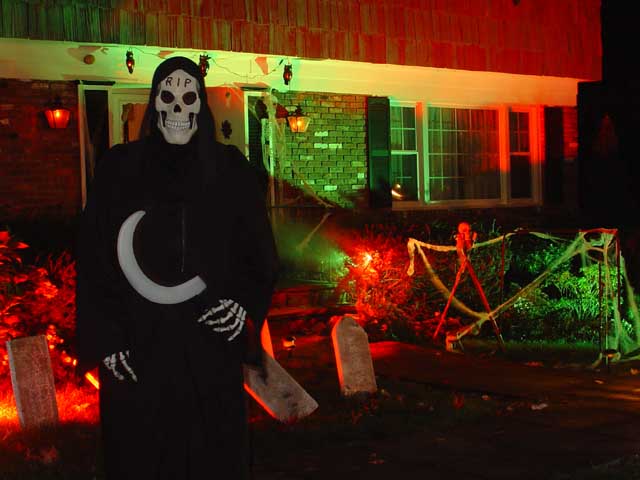 Halloween is my second favorite time of the year. One guess what is my first. For Halloween night I enjoy making my house look spooky. Halloween is all about witches, ghosts, and goblins. No fairy princesses or super heroes for me. This is fright night: the time for scary costumes, creepy music, and terrifying decorations. Because haunted houses are supposed to look run down and dilapidated, it makes no sense to me to spend a lot of money to make my house look like this. Most of my decorations are home made, and the stuff I've bought has been accumulated over the years usually at deep discounts (anywhere from 50% to 90% off) at post-Halloween sales.
If you didn't guess by now, that is me in costume above. I wear the same costume every year. Why mess with success? It is at the same time one of the simplest and also one of the scariest costumes you will ever see. One year I won a prize for scariest costume at a friend's Halloween party. Little kids routinely avoid me, and teenagers either compliment me (mostly boys) or say it creeps them out. It all happened by accident; the grim reaper mask I bought on impulse one year, and the next year I added the gloves with skeleton fingers. This turned out to be the key addition; the mask by itself wasn't scary enough but together with the gloves the combination is ten times as creepy. Believe it or not the black robe was my college graduation robe! I saved it in a drawer all these years. I knew I'd have a use for it eventually, and boy did I. The hand held sickle is optional, but adds a a nice touch. But what is best about the costume is I can put it on or take it off in 30 seconds or less. No messy face paint. No long preparation or complicated straps or ties. I just need to be sure to wear regular long black pants and shirt. I put on the gown and zip it up, pull the mask over my head, slip on the gloves and voila! I'm the Grim Reaper coming to claim his next victim!
I added the small graveyard a couple of years ago. My "stones" are made of Styrofoam that came in packing boxes used to ship stuff to my company. They didn't care if I took it because it was already in the garbage. I dirtied them up with some ready mix patching cement that I had lying around the house. Most were already in rectangular form, but a couple I trimmed to have rounded tops. I straightened out some coat hangers and pushed the wire through the Styrofoam with about 4"-6" sticking out the bottom. I push the wire into the ground and that holds the stone in place. The only problem is if itís windy. Gravestones blowing in the wind don't look very realistic! Fortunately this has not been a problem. I've seen some pretty elaborate plans on the internet for making gravestone, but then I have to store them for 364 days and they take up a lot of space that I just don't have. My stones stack up neatly and I put them into a large plastic garbage bag up in my attic until next Halloween.

Every year we carve a pumpkin of course. I have one of those little pumpkin carving kits, and they are fine for detailed work, but for removing the top and carving basic triangular eyes, nothing beats a Sawzall.

All of the extension cords are the same ones I use for my Christmas lights display. I usually just drape them across the lawn. In the winter the only one who walks across my lawn is the mailman, and he comes during the day and knows to look out for them. On Halloween night the problem is protecting enthusiastic trick-or- treaters who can't wait to get their candy and run right across the lawn heedless of the danger of tripping over unseen hazards in the dark. I hit upon the idea of using plastic skulls mounted on poles in cannibal fashion with some fake spider webs strung across. It presents a clear, highly visible (and scary!) barrier that forces the kids to go around, rather than over, my wires. As an added bonus, the hideous looking skulls also have a variety of cheesy sound effects, such as witches cackle, bubbling cauldron, tormented scream, creaking door, evil laugh, etc. which just adds to the cacophony of spooky sounds coming from my house.

I also put spider webs on the top of my bushes and around the lights by the front door. I tried to reuse the spider webs but they are just too sticky and get dirty, and are generally difficult to deal with at best, so now I use them once, throw them out after Halloween, and buy new ones for next year. At about $1 per pack itís an extravagance I can afford.

I replace the normal light bulbs by my front door with flicker flame candle bulbs. They are very dim (only 3W) but they are for dramatic effect, not illumination. They do look cool, and I have enough light from colored bulbs hidden in the bushes and strobes that I don't need more wattage there. Besides, we want the house to look dark and scary. Candles help complete the scene.

I picked up four strobes with sound effects for 75% off at Target a couple of years ago. I already had two and didn't really need more, but it was a deal I couldn't pass up. I place them in the bushes pointing up at my house. The strobes are variable speed and also have a thunder and lightning sound effect, as if I needed more sound.

I hide a CD boom box player in the bushes next to my front door. I own several Halloween sound effects CDs and vary them from year to year. I just set the player on continuous loop and it plays all night. Well, at least till I turn it all off and go to bed. My neighbors must really love me. They may not, but the kids do. And I'm a big kid at heart.

The audio adds to the experience, but most of the impact is visual. And most of the visual impact is easily created with lighting. I shine colored spot lights on the house and have others pointing up on the trees casting ominous shadows. Several strobes set at different speeds add a little motion to the scene. I have a smoke generator but itís a cheap one and does not have a wireless remote or automated operation. I tend to keep it inside the house and as I open the door (in costume of course) give a little blast of smoke so it comes out of the house. It's OK but could be a lot better.

A better smoke generator is on my wish list. There is always something I'd like to add. I think it would be neat to have blinking red eyes in the bushes, and I've seen some LED setups on the internet, but they cost more than I'd like to spend. Maybe I can make my own. I'd also like to add some black light and I've looked at the long fluorescent black light bulbs at Home Depot but haven't pulled the trigger yet. Maybe next year!

Happy Halloween everyone, and safe trick or treating!
Click on any of the images for a larger view.

| | |
| --- | --- |
| | |
| text | text |
| | |
| text | text |
| | |
| text | text |
| | |
| text | text |
| | |
| text | text |
| | |
| text | text |