Return to Arizona, 1991
Click on the text links to see more pictures, then click your browser's "Back" button to return to this page.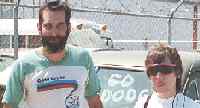 In 1991, Barbara, my wife, was attending a conference in Phoenix and I joined her for a week of vacation afterwards.
Our first stop was to visit Brad at Mr. Good Parts. Barbara was as fascinated with the junkyard as I was.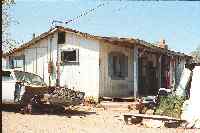 The place hadn't changed much since 1986, although West Mohave Street had been paved and was no longer a dirt road.
Brad claimed to have made some improvements to his house, but it was hard to tell. Brad's old tow truck, "Bam Bam", was gone, replaced by this "more roadworthy" model. Brad had also acquired a fork lift.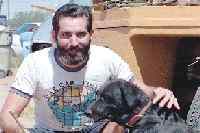 Floyd the dog was gone, and in his place was the mean looking Devil Dog. But like Floyd, Devil Dog had a friendly side.
Brad also had a little puppy named Devil Dog 2, which we think is the "Devil Dog" that Brad owned at the time of his death.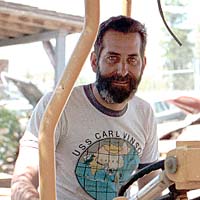 Brad was a great salesman. He would delight in getting an old, but roadworthy vehicle that the owner would actually pay Brad $50 or $100 to dispose of! If there was no immediate need for the parts, he might drive it around for a while before cutting it up for parts.
Brad, Barbara, and I all went out to a Mexican restaurant that night for dinner and more than a few margaritas. The next day Barbara and I took off in our rental car towards Flagstaff and points North.

Though Brad and I stayed in touch by phone over the years, this was the last time I saw him alive.