An unusually rainy weekend in Phoenix, 1986
Click on the text links to see more pictures, then click your browser's "Back" button to return to this page.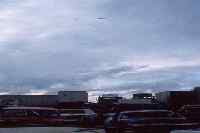 Enroute to a computer show in Las Vegas in late 1986, I stopped in Phoenix for the weekend to visit Brad. Several years earlier Brad had moved out to the desert where there was a nearly unlimited supply of old, rust-free cars. I had never been to Phoenix before, and had always heard about it being so hot and dry. But looking out of the airplane window on final approach, all I could see were clouds.
It ended up raining two days straight. Brad later told me that it hadn't rained at all in months, and in all the years he had been in Phoenix, he couldn't ever recall it raining two days in a row. My luck, but at least it wasn't 120 degrees.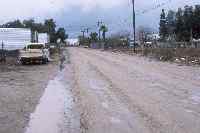 At the airport, I hopped in a cab and gave the driver the address on West Mohave Street. The cabbie was a weather-beaten old guy, with skin brown like leather. He slowly turned and gave me a funny look and said, "Your friend don't live in such a hot part of town". I laughed. I thought he was kidding. Little did I realize.
West Mohave street was a dirt road, lined by truck parks, junkyards fenced with razor wire, and shacks with dirt front yards populated by chickens and dirty faced kids. I think Brad was the only person who spoke English in a several block radius. As if the neighborhood weren't bad enough, it was right under the approach path to the airport.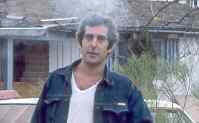 It was good to see Brad, and he gave me a quick tour of his business, Mr. Good Parts. He had been obsessed with cars as long as I knew him, and it seemed a dream for him to have his own car parts business, or, as it might be called in less polite circles, a junkyard.
Brad had a junkyard dog named Floyd. But he was really a friendly dog, a poor choice for a guard dog. His favorite activity seemed to be chasing his own tail. It was only at Brad's funeral I learned that Brad had an Uncle Floyd. Coincidence? No, I think that was Brad's sense of humor naming his dog after his uncle.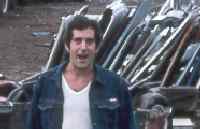 Mr. Good Parts specialized in Mopar (Chrysler, Dodge, etc.). Brad would pick up old cars and take them apart, and sell to enthusiasts from all around the country looking to restore their classic cars with genuine components. Everything was neatly organized and categorized. Brad had found his niche, and he seemed happy.
The only thing missing was Brad's Charger. Unfortunately, the Charger had proven to be a magnet for trouble, and after a few run-ins with the law, it became too expensive to insure. So Brad put the Charger in moth balls and drove an "old man's car" for a while, but added the Bradley touch in the form of a vanity license plate.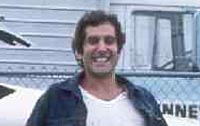 Several people at the funeral were surprised to learn that Brad had a gun, which he got to protect his business after a couple of robberies. When we went out he strapped it on in a holster. He told me that in Arizona it was legal to carry a gun as long as it was not concealed. Real Wild West. He used to shoot target practice in his lot, hoping the sound of the shots would announce to his neighbors to stay the hell away.
Brad told me that unfortunately he got the gun too late to save his pet goat, Princess, who disappeared from his lot one day. Shortly afterwards, he noticed his Mexican neighbors walking around with fat bellies and smiles on their faces, and found some hooves and an ear in their garbage. We felt sorry for the poor goat, but it was a funny story, and afterwards even Brad had to laugh about it. Cabrito enchiladas, anyone?

Brad drove me to the airport Sunday afternoon and I continued on to Las Vegas. Because it was a short flight to a different time zone, I arrived before I left. I didn't see Brad again until my next trip to Phoenix in 1991.